TAP Nears a New Milestone
TAP continues to assist students and non-profits throughout East Tennessee and will soon reach a major milestone by providing the 10,000th student with in-home access to computer technology.  The official number of children assisted is now 9,813, and 105 systems have been provided to schools and social agencies yet to be reported back to TAP.  Multiplying the outstanding 105 systems by our historical ratio of 1.5 children helped per systems provides an estimate of 157 children more likely to be added to the tally of students helped  by systems already donated.  Adding the 157 probable children to 9,813 children already documented yields an estimate of 9,970 helped to date.  That is only 30 children short of 10,000 milestone!!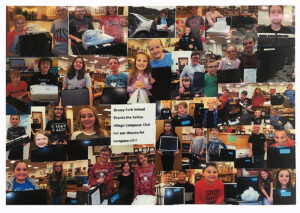 TAP has recently started working with two schools in Cocke County and so far have delivered about 60 systems for students in those schools.   One of these schools is Grassy Fork Elementary School in Hartford, Tennessee.  Both Cooke County schools are doing a good job of teaching low-income students and sought the donation from TAP after learning of the Club's program for helping disadvantaged students.  The schools provide the donated computers only to low income families with children who were well motivated to succeed.  In response to the donation, Grass Fork Elementary provided a photo collage of students that benefited from the TAP donation.  The picture is hanging in the TAP office here in Tellico Village.
There are other schools in nearby counties that we can assist by providing systems for their students.  That cannot be done without equipment to refurbish, and at the present time TAP has critical need for more computers and monitors.  There are days when there is nothing for volunteers to work on.  If you have computer equipment that is not being used, please bring it to TAP.  WE NEED IT!