Technology Access Program
What is TAP – Technology Access Program?
Technology Access Program known as TAP is a community outreach program of the Tellico Village Computer Users Club.
A Record Breaking Year!
One Thousand and Eighty Eight Systems Delivered as of December 31.
This is the best way to recycle your used computer equipment.
Please consider donating your old system components to the Technology Access Program (TAP). If you have a donation, please call:  865.332.5313 or E-Mail TAP
Donations of computer equipment can be brought to:
TVCUC — TAP
244 Lakeside Plaza, Loudon, TN 37774
Lakeside Plaza is along Ritchie Road (intersection #10) and TAP is located in the lower level of building #2, behind the Thai Bistro.
---
How We Are Doing
TAP (Technology Access Program) restores and gives away computer systems to needy families in our greater community.
From inception in 2007 through December 2020 TAP has delivered 8,355 computer systems that benefited 12,460 youths! And the latter number continues to increase with more reporting from recipient schools.
TAP PERFORMANCE CHART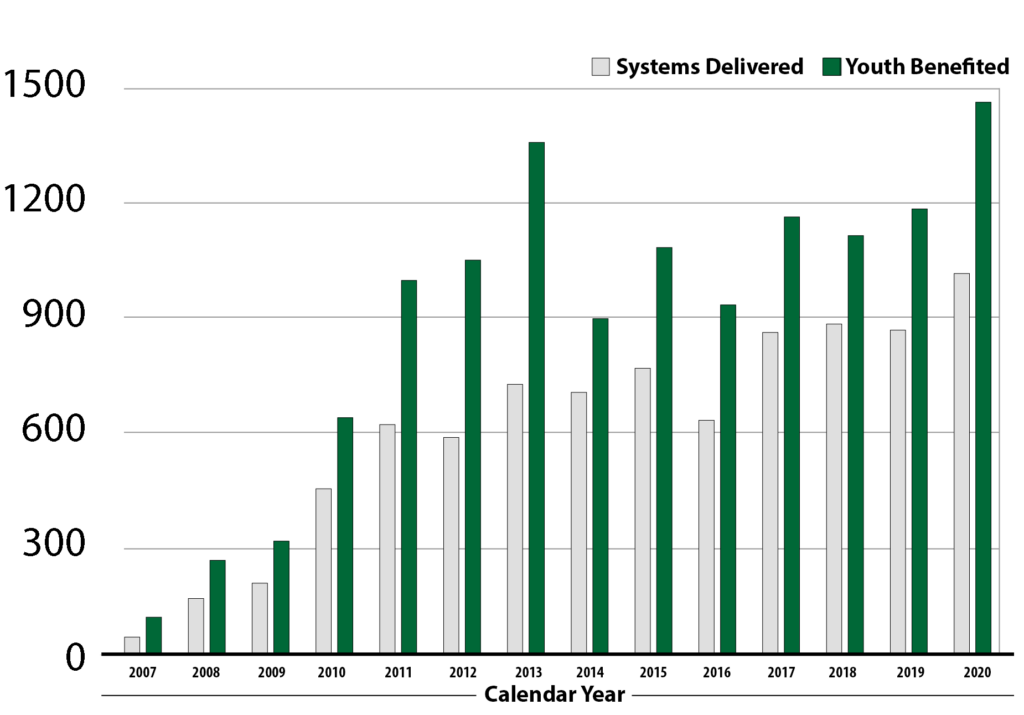 Total numbers for each year as indicated in the chart
2020: 1,088 systems delivered, benefiting 1,577 youths (as of Nov. 30)
2019: 846 systems delivered, benefiting 1,157 youths
2018: 862 systems delivered, benefiting 1,096 youths
2017: 840 systems delivered, benefiting 1,145 youths
2016: 610 systems delivered, benefiting 915 youths
2015: 746 systems delivered, benefiting 1,065 youths
2014: 683 systems delivered, benefiting 879 youths
2013: 704 systems delivered, benefiting 1,340 youths
2012: 565 systems delivered, benefiting 1,032 youths
2011: 599 systems delivered, benefiting 979 youths
2010: 431 systems delivered, benefiting 620 youths
2009: 184 systems delivered, benefiting 297 youths
2008: 144 systems delivered, benefiting 247 youths
2007: 43 systems delivered, benefiting 98 youths
Demand from local schools remains high, but our current supply of hardware is running critically low. Please spread the word among family and friends who may have excess computer hardware.
---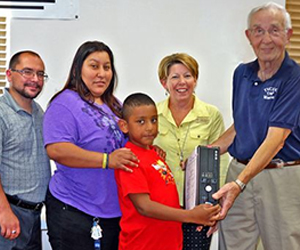 History

TAP was started by volunteers who refurbished donated computers. They were sold at the spring and fall Tellico Village community garage sales. Remaining spare parts and unsold computers were then given to a local computer shop.
The original volunteers could see a need to make home computer access available to families in Loudon and Monroe Counties.  Computers not suitable for the garage sales but still usable would be given to a family referred to us by a school or charitable organization.  They presented their plan to the four agencies who were involved in the garage sales The agencies were Habitat for Humanity, Tellico Village Community Church Crafters, TVPOA Beautification Committee and Good Neighbor Shoppe.
Growing Pains
As we grew our need for space exceeded the spare rooms or basements that had been our work areas. The Tellico Village Community Church offered work space at no charge complete with all utilities and internet service.
Success!
The first 12 systems were given away on June 2, 2007. A system consists of a desktop PC computer, CD R/W, high-speed and dial-up internet access capability, monitor, keyboard, mouse, speakers, printer with ink, and a ream of paper. During 2007 TAP gave away 43 systems and during 2008 TAP gave away 132 systems. And these 175 computer systems provided home computer access for 345 children!
The Big Move
In 2009 Tellico Village Community Church needed pastoral office space as their building project commenced. TAP then acquired space in the lower level of building 2, Lakeside Plaza on Ritchie Road. TAP no longer enjoyed the favorable terms given to us by Community Church. We then began to reach out to United Way and other grant-providing philanthropic organizations.
How we operate
The computers that TAP provides to referred children are given to TAP by:
Our friends and neighbors in Tellico Village.
Area business who are upgrading their own systems.
Industries who observe a regular replacement schedule.
Aggregators who service the computer leasing business.
Recycling and Restoration
All computer systems and peripherals are inspected and cleaned on arrival. The operating system, all programs, and any remaining personal information is removed from the computer. A new operating system and basic applications are installed so that a "clean" system can be delivered to a deserving student. TVCUC maintains a 501(c)3 (non-profit) designation. Financial contributions are welcome. Note that this is a great way to dispose of and recycle your old computer equipment.
Today
Currently TAP provides computer systems to qualifying students in Loudon, Monroe, Blount, Roane, Anderson, Knox, McMinn and Campbell County schools and to qualifying students in Lenoir City, Sweetwater, Oak Ridge, and Knoxville City Schools. In addition there are numerous organizations and agencies that refer requests from qualifying families to TAP.
---
TO CONTACT TAP
CALL 865.332.5313 Or use the form provided here:
---
Technology Access Program Committee
Co-Chairman – Warren Sanders
Co-Chairman – Vince Alline

---
SPONSORS
TAP thanks the wonderful Individuals, Organizations, Businesses,
and Foundations who generously provide needed funding.